Top 20 Amigurumi Youtubers!
Dear friends,
I am so thrilled to share that the
Sweet Softies Youtube Channel
is listed as one of the
Top Amigurumi Youtube Channels
on Feedspot! Please check out
Feedspot's article
to see and read about the other amazing Amigurumi Youtubers! Lots of great stuff out there, folks!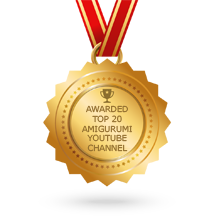 As some of you may know, my channel has amigurumi and crochet tips, tutorials, and product previews. I plan to add more content in those areas, along with full project patterns in the future! If you could please
subscribe to my channel
, I'd greatly appreciate it. It will help and support me tremendously as I work on adding more video content!
Thank you all kindly from the bottom of my heart!