Hooded Bunny Rabbit
The Hooded Bunny Pattern provides instructions for crocheting an adorable, little rabbit that wears a shirt and a matching hoodie. Its cute outfit can be customized by using different colors and designs, such as stripes! This sweet bunny is sure to add extra cuteness to your life! It can also serve as a great friendship gift or birthday gift!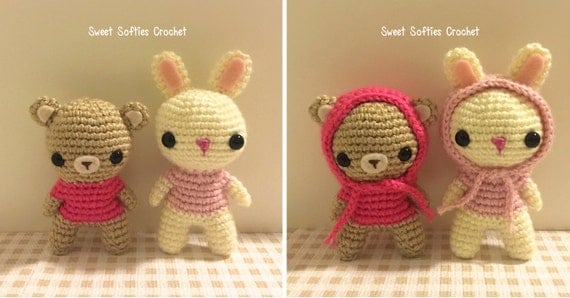 Also pictured is the Hooded Bunny's best friend, the Hooded Bear! Though they both have star-shaped bodies with no sewing of the limbs, Bear is littler and boasts a more babyish look with his less-pronounced neckline. During the warm seasons, Bear and Bunny enjoy playing together and hunting for berries in gardens. When the weather is cold, they wear their hoodies and prepare for hibernation!
The Hooded Bear's pattern can be found
here
.